You probably didn't know places like these actually existed.
There are some pretty strange places in the United States if you just take the time to stop and look. There's the the World's Largest Brick in Montgomery, the completely painted (100,000 gallons worth) Salvation Mountain in Calipatria, California, and a creepy 13-foot statue of a peanut with teeth in Plains, Georgia that makes you feel incredibly uncomfortable.
There are just too many weird things to write about so we decided to narrow it down to the 18 weirdest museums our great country has to offer. Check them out and let us know what you think. We guarantee you'll have something interesting to tell us.
(The New and Improved) SPAM Museum, Austin, MN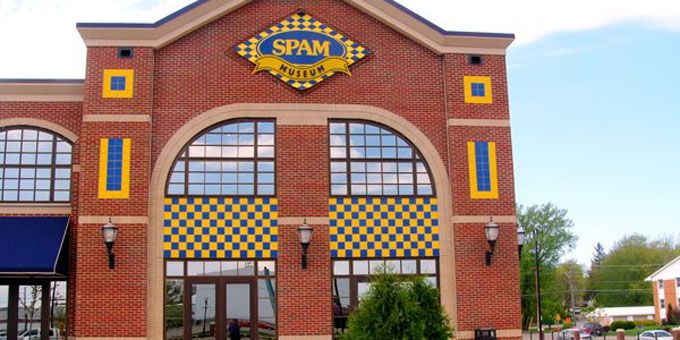 Photo courtesy of David Mulder / CC BY-SA 2.0
The SPAM Museum honors the more than 7 billion SPAM products produced in the U.S. with historic exhibits, artifacts and tokens from the company's 78-year history. Although it's currently closed, it will reopen in 2016 with brand new exhibits featuring more of the "Stuff, Pork and Ham," "Something Posing as Meat," or whatever you want to call it.
International Cryptozoology Museum, Portland, ME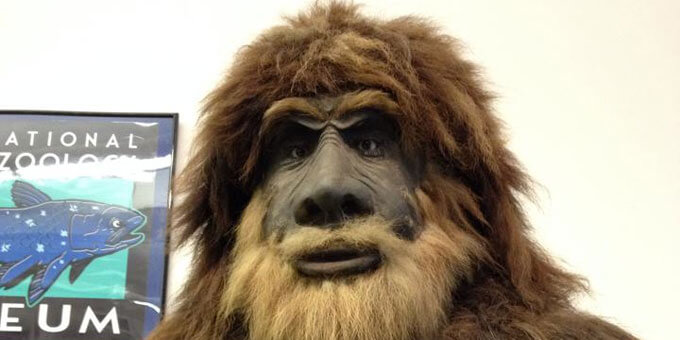 Photo courtesy of the International Cryptozoology Museum
A "reborn" sasquatch baby doll isn't the strangest thing you'll see at the International Cryptozoology Museum. Cryptozoology means "the study of hidden animals" and this museum is home to a bunch of them. Browse the hair samples of the Yeti, Abominable Snowmen and Bigfoot, make your way through the Lake Monster exhibition, or learn about the Dover Demon, the Jersey Devil and the Montauk Monster.
Beer Can Museum & Beer Can Hall of Fame, East Taunton, MA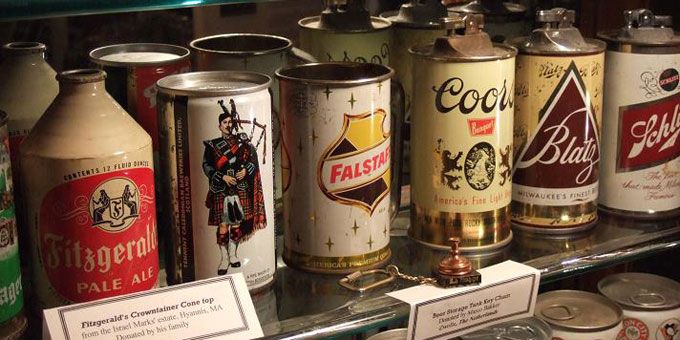 "ETBCM". Licensed under CC BY-SA 3.0 via Wikipedia.
This one proves that just about any everyday item can warrant a museum. The Beer Can Museum & Beer Can Hall of Fame is home to an extensive collection of yesterday and today's beer cans. See vintage cans like Hop'n Gator (the beer and Gatorade combo), thousands of creative coasters, error cans, and even international cans and bottles. Just a note: tours are only available if you call ahead for an appointment.
Mütter Museum, Philadelphia, PA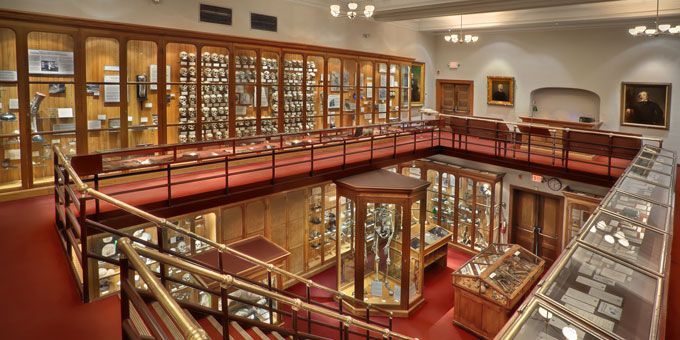 Photo courtesy of the Mütter Museum
This collection of medical oddities at the Mütter Museum features some things you're likely to never see again in life. Like sections of Albert Einstein's brain. Equally disturbing yet interesting, are the museum's exhibits of historic medical photos, medical instruments from as far back as the 17th century, and wet specimens of just about every piece of the human body.
The Hobo Museum, Britt, IA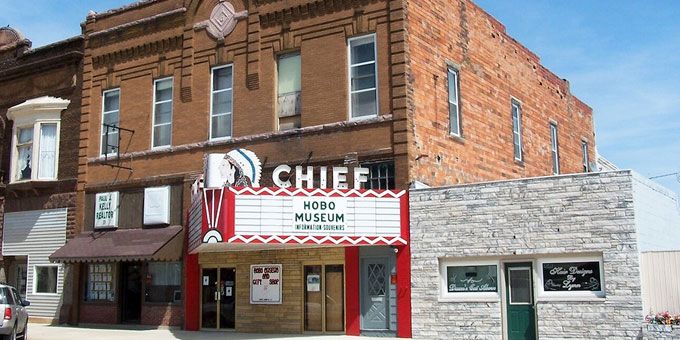 Photo courtesy of J. Stephen Conn / CC BY-NC 2.0
If you like books and poems written by hobos, hobo music, and hobo crafts, the Hobo Museum is the place for you. A strange yet informative place, this museum delves into the everyday life of a hobo and even hosts a Hobo Convention where the Hobo King and Queen are awarded their titles.
Leila's Hair Museum, Independence, MO
I don't know what could be weirder than a museum filled with artifacts completely made of human hair, but Leila's Hair Museum is just that. Wreaths and jewelry made from hair completely cover the walls and fill the glass cases. Some of the hairpieces were worn by people of the early 1800s-1900s and several of the artifacts are even made from the hair of prominent people like Michael Jackson, Queen Victoria and Marilyn Monroe.
The International Banana Museum, Mecca, CA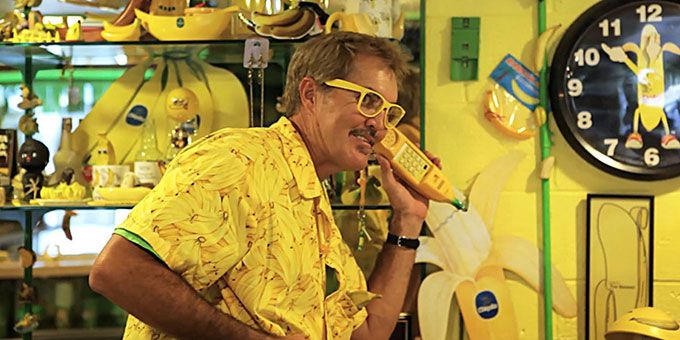 For everything and anything banana, head to the International Banana Museum. This place has earned the Guinness Book of World Records title of the "largest collection of items devoted to any one fruit," and rightful so, with more than 19,000 banana-related items. But before you make like a banana and split, grab your favorite banana-flavored shake or soda for the road. They're even open on Sundaes, so what's not to love?
Vent Haven Museum, Fort Mitchell, KY
Photo courtesy of 5chw4r7z / CC BY-SA 2.0
As long as you haven't seen the movie Annabelle, the Vent Haven Museum might pique your interest. Billing itself as the only museum in the world dedicated to ventriloquism, this venue is packed full of the late William Shakespeare Berger's collection of more than 800 ventriloquist dolls, ventriloquist playbills, vintage books and more.
Antique Popcorn Museum, Holland, OH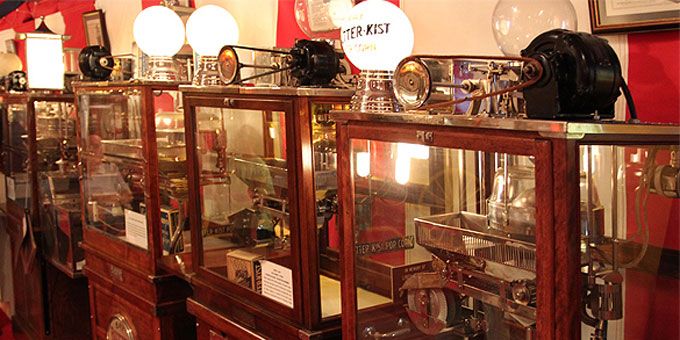 The J.H. Fentress Antique Popcorn Museum is home to more than 35 original Butter-Kist Popcorn machines, nearly 100 vintage advertisements and hundreds of other novelty popcorn collectibles. If this place doesn't leave you wanting those puffy, buttered and salted kernels, I don't know what will.
Vacuum Cleaner Museum, St. James, MO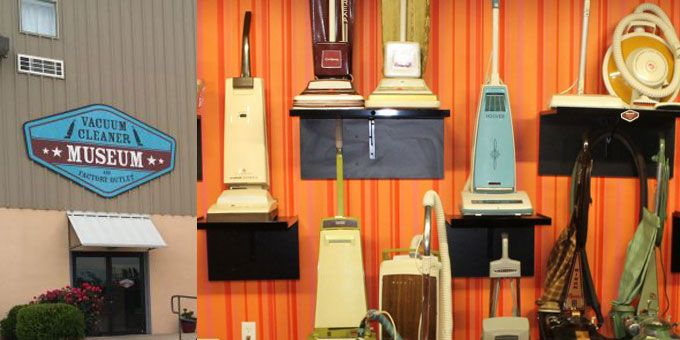 Who knew vacuum cleaner museums even existed? Well, there definitely is one, in St. James, Missouri. The Vacuum Cleaner Museum provides insight into the different ways people kept floors clean before electricity, the creation of vacuum cleaners and their evolution over time. Even if you're not really interested in learning about vacuum cleaners, why not replace that awful vacuum you've got at home with a new one from the connected Factory Outlet.
Mothman Museum, Point Pleasant, WV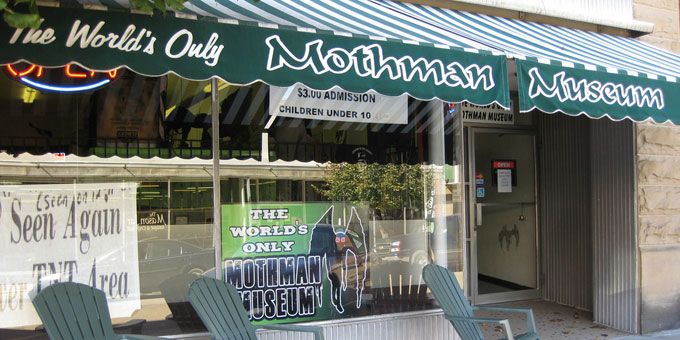 Photo courtesy of Richie Diesterheft / CC BY 2.0
The Mothman made his first appearance in Point Pleasant, West Virginia nearly 50 years ago, and he still shows up inside the Mothman Museum. This small town venue is dedicated to the legend that many believe to be truth and is chock full of Mothman memorabilia. See cutouts of real newspaper stories documenting the Mothman sightings in town, a letter signed by Robert F. Kennedy, and watch clips of documentaries about Mothman and the strange occurrences phenomena that surround his appearances in West Virginia.
National Mustard Museum, Middletown, WI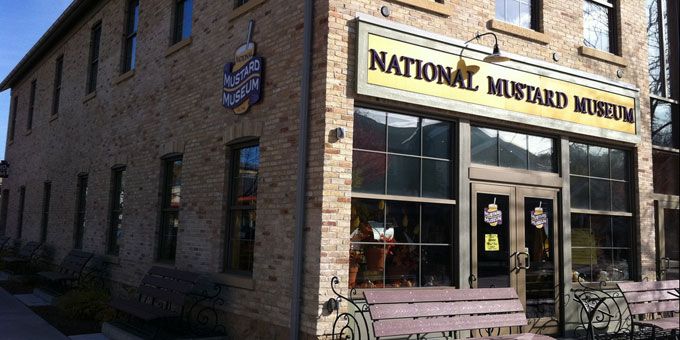 Photo courtesy of Ross Grady / CC BY-NC-SA 2.0
This museum is weird, but not as weird as the way it began. The curator attests to the fact that the mustard spoke to him late one night at the grocery store, saying "If you collect us, they will come." No, seriously. I'm not joking. So he started collecting them and lo and behold, the National Mustard Museum became one of the most popular tourist attractions in Wisconsin and the prophetic mustard was right. Before you enter, just mentally prepare yourself to browse more than 5,624 different kinds of mustard.
Willow Creek China-Flat Bigfoot Museum, Willow Creek, CA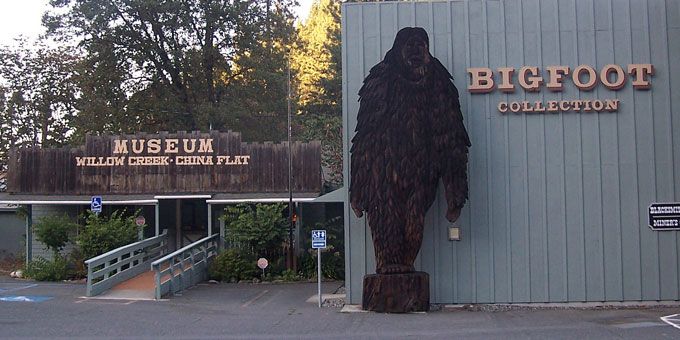 Photo courtesy of J. Stephen Conn / CC BY-NC 2.0
The collection of Bigfoot artifacts at the Willow Creek China-Flat Bigfoot Museum is extensive, ranging from Bigfoot pictures, maps, footprint casts, books and souvenirs. Those interested in catching Bigfoot one day will learn a lot from this museum and maybe even gain some tips for future Bigfoot hunting trips. Not to mention, the 25-foot Bigfoot sculpture in the parking lot is pretty great too.
The Neon Museum, Las Vegas, NV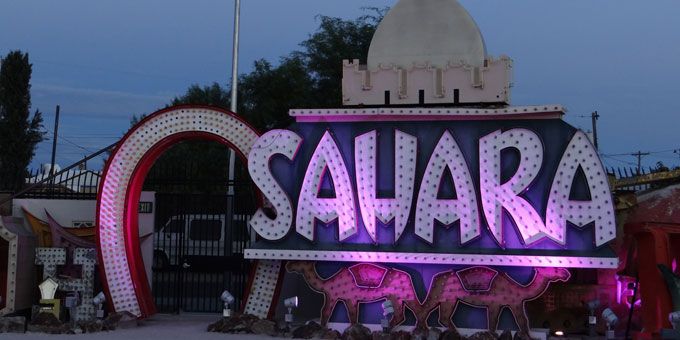 Photo courtesy of Gary Bembridge / CC BY 2.0
The Neon Museum in Las Vegas is an outdoor art gallery of Sin City's retired neon signs. The museum itself features nine restored signs and the outdoor exhibition area, known as the 2,500-square foot Neon Boneyard, is home to more than 150 more. The space is available for tours, awesome photo shoots and events like weddings, family reunions and corporate functions.
Roswell UFO Museum, Roswell, NM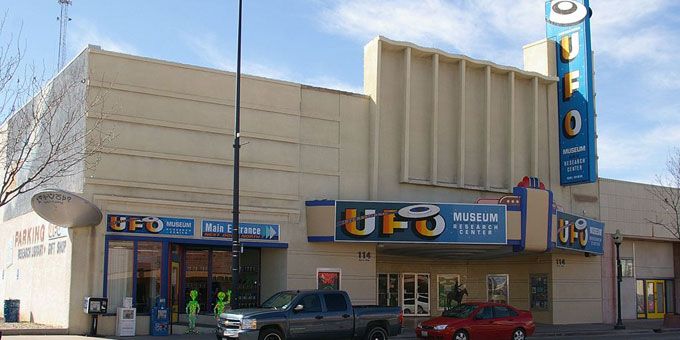 By J Dykstra (Personal photo) [Public domain], via Wikimedia Commons
Explore the mystery of the events that took place in Roswell, New Mexico more than 60 years ago with the Roswell UFO Museum. This nonprofit organization is dedicated to educating visitors on the debate over the possibility of a flying saucer crashing to the earth with exhibits detailing crop circles, abductions, alien sightings and more. Who knows, maybe you'll emerge a believer.
OZ Museum, Wamego, KS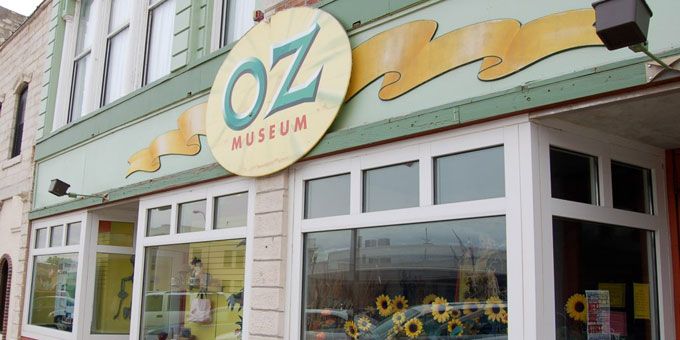 Photo courtesy of Out.of.Focus / CC BY-NC-SA 2.0
More than 100 years worth of Wizard of OZ memorabilia fills the OZ Museum, including the 1st edition of L. Frank Baum novels, props from the musical Wicked, the sparkling red shoes that Judy Garland wore, original production notes from the 1939 film and more. OZtoberFest in September is a huge event for the museum, featuring special guests, costume contests and the Wizard of OZ characters.
The Idaho Potato Museum, Blackfoot, ID
"IdahoPotatoMuseumPotato" by KRRK at English Wikipedia - Transferred from en.wikipedia to Commons.. Licensed under CC0via Wikimedia Commons.
The first thing you'll see when you pull up to the front of the Idaho Potato Museum is, of course, a gigantic potato. But why? Well Idaho is the "Potato Capital of the World" after all, and the museum is a reminder of that. The informative exhibits detail the rise of the potato in Idaho as well as providing guests with interesting potato recipes that they can try at home.
Museum of the Weird, Austin, TX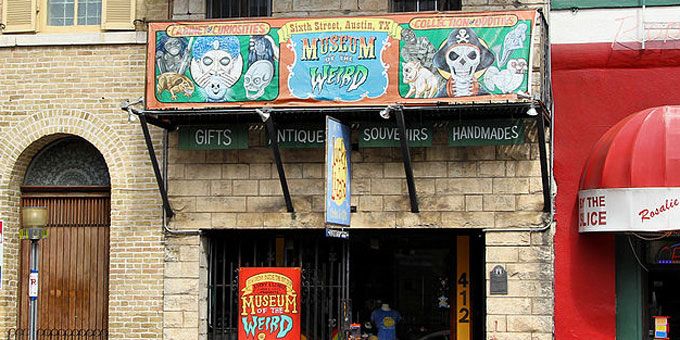 Larry D. Moore [CC BY-SA 3.0 or GFDL], via Wikimedia Commons
This one made the list for obvious reasons, but the Museum of the Weird is true to its name, with some extremely strange artifacts and exhibits. You'll see everything from two-headed animals and shrunken heads to real live mermaids. Don't believe in any of that? Go look for yourself.
Have you come across any other weird museums during your travels? We want to hear about them! Please comment and share your experiences below!